St. Mary's High School Logo
St. Mary's High School Logo theme hoop covers. You'll get plenty of compliments wearing these! They also make a fun, unique gift. Hoop earrings with interchangeable covers make Spirit Hoops perfect for any event. View more styles today...Read more
---
---
SHIPS IN 3-5 BUSINESS DAYS. ORDERS OF $10.00 or MORE SHIP FREE! - To add this product to your wish list you must Sign In or Create an Account.
---
Description
Statement earrings don't have to be heavy! Spirit Hoops are lightweight and very comfortable. These eye-catching earrings are the easiest way to add a lot of fun to any outfit. All Earrings are high quality hypoallergenic stainless steel. Though Spirit Hoops covers can be worn with other earrings, we recommend pairing them with a set of Spirit Hoops earrings for a perfect fit. With a pair of spirit hoops, you can mix and match any covers you like for your own unique look.
Covers designed and manufactured in the USA. Check our
FAQ page
for more information.
Size Chart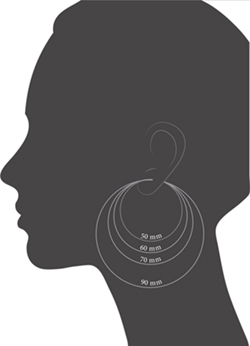 This product has been already added to Wish List
To add this product to your wish list you must